Mitsubishi Zuba-Central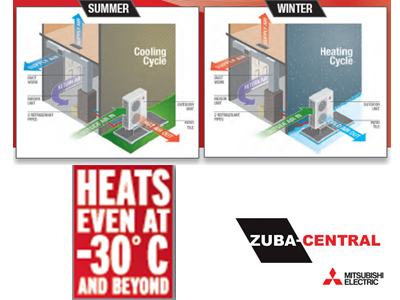 Zuba will keep you comfortable during the coldest winter days and nights
The Mitsubishi Electric Zuba product line was developed for high performance in Canadian climates. Enjoy the benefits of a heat pump in the extreme cold of winter and the extreme heat of summer. The Zuba can handle all your home comfort climate needs.
Zuba provides high-heating performance, even under extremely low outdoor temperatures thanks to our efficient and exclusive Hyper-Heat Inverter (H2i) technology. In addition, the unique defrost mechanism provides an extended period of continuous heating between defrost cycles and minimizes the defrost time required. This proves yet again that Zuba is one of the most efficient systems on the market.
Zuba keeps your space warm even when the outdoor temperature drops as low as -30 °C. It continues to perform at 100% of it's heating capacity at -15 °C, ensuring a comfortable indoors no matter what's happening outside.

The secret behind Zuba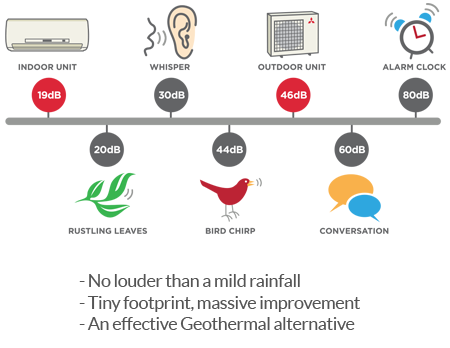 Zuba can provide year-round comfort with or without a supplemental indoor heating device, unlike many competitors. Additionally, Zuba's unique hot-start technology provides warmth from the moment it's turned on, helping to reduce drafts. With easily accessible filters and simple wiring between the indoor and outdoor units, Zuba is conveniently low maintenance and easy to use in any home.
10-YEAR WARRANTY
For over 90 years, Mitsubishi Electric has been a leader in the design and manufacturing of reliable, high-quality electronic and electrical equipment, both for the consumer market as well as for corporate and industrial customers. Our commitment to innovation and technology is exceeded only by our commitment to service – we stand behind every product that bears the Mitsubishi Electric name. Beyond our standard 5-year parts and 7-year compressor warranty, all Zuba systems installed by an MEQ authorized HVAC Installer will receive an upgrade to an extended 10-year parts and compressor warranty. It's just one less thing to worry about.