Company Profile
When it was founded in Laval in the spring of 1982, ENERTRAK INC. employed three people and ensured the distribution of a unique range of products. A branch in Quebec was added in 1983, the construction of a new head office in Laval in 1991, a second location in Laval in 1996, representation in the Maritimes in 1997 and, in 2001, a branch in Dartmouth in New-Scotia. In 2004, our customers on the South Shore of Montreal were delighted with the opening of a new branch in Longueuil. In 2008, a second branch was added in the Maritimes in Moncton, New Brunswick and in 2012, a third in St. John's, Newfoundland and Labrador. In 2016, the Moncton office moved for the first time to larger premises with a warehouse to better serve its New Brunswick clientele. In the fall of 2018, a new division of parts, accessories and refrigeration was created and the Michelin branch was therefore reopened for the occasion. 2018 ended on a high note for the colleagues at the Quebec City branch, which tripled in size due to its growing team as well as its remarkable sales. Following similar results at the Halifax and Moncton branches, they also doubled in size in 2019, in March for Team Nova Scotia and in October for Team New Brunswick. Recently, the Longueuil branch moved to Saint-Bruno-de-Montarville, which offices include a 25,000 square foot warehouse, similar to the new Newfoundland and Labrador Office which moved to Mount Pearl to an office with a warehouse, to better serve its customers.
To ensure the longevity of the company, a succession was carefully put in place by Sam and Ada Trak, its co-founders. It is composed by Karine Trak, Senior Vice-President and General Manager, Roger Nasrallah, Vice-President, Commercial Affairs, Marc Naccache, Vice-President, Strategic Business Development, Daniel Giroux, Vice-President, Quebec Region Sales, Brad Matheson, Vice President, Atlantic Commercial Sales, Vic Epifani, Director of Engineering Systems and Hung Quy Huynh, Director of Technical Services.
Forty years later, ENERTRAK INC. distributes more than forty product lines in Quebec, the Maritimes and the Outaouais region, with inventory available in its seven warehouses. Engineers, technicians and qualified personnel totaling more than eighty people are at your service!
The success of the past, based on innovation and the search for excellence, motivates us to continue our commitment to offer quality products. Our strategy for the future... keep our winning formula:
Technical Expertise + Innovation + Superior Products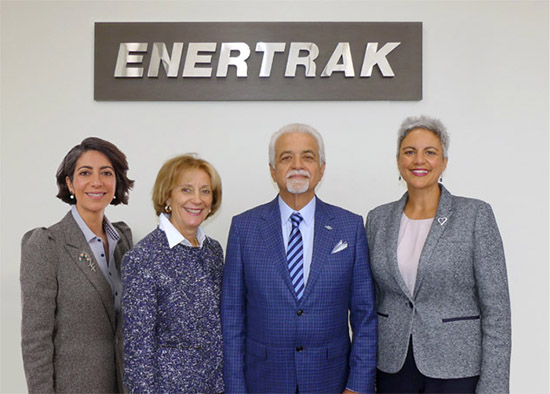 Ada,Sam and Karine Trak
Innovative solutions since 1982

2023

CO2 Air Source Heat Pump for domestic hot water QAHV

2022

Reversible Air Source Heat Pump

2021

Combos Systems – Hybrid Solution



SYSCOOL « Free Cooling » natural cooling
OASIS indirect air economizer up to 600 kW

2020

Systemair DUCTED energy recovery wheel

2019

Air Handling units without thermal bridge up to 60,000 PCM

2018

Air handling units

Heating & cooling systems

2017

Hybrid heat pumps VRF City Multi

2016

Swegon Gold heat recovery

2015

Bulldog Hybrid heat pump

2014

Smardt magnetic cooler with Danfoss TURBOCOR technology

2012

Ecodan Water/Air heat pump

2010

6th generation of Swegon chilled beams

2008

City Multi for domestic water and radiant floors

2007

Zubadan HyperHeat

2005

Stulz ECM Ventilators for computer rooms

2004

City Multi geothermal

1999

City Multi VRF air conditioner/heat pump

1998

Lossnay/RenewAire energy recovery

1996

Mitsubishi "ULTRA LOW" -40 °C

1995

Stulz ultrasonic humidifiers

1994

Desert Aire dehumidifiers with SELECTAIRE technology

1993

Hot Water integrated heat pump systems Frigidaire

1992

Vertical outdoor air conditioners for telecommunications

1989

Portable air conditioners Toyotomi

1987

Mitsubishi Mr. Slim Mini-Split

Alfa Laval plate heat exchangers

1984

Ice-Cell thermal storage

1982

Screw compressors and chillers Dunham-Bush