ENERTRAK Company History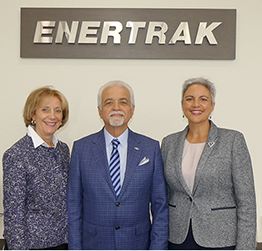 Ada,Sam and Karine Trak
In May of 1982, when ENERTRAK inc was established, the "Team" consisted of three people and assured the distribution of one single line of equipment and parts. Expansion started with an office in Quebec City in 1983, followed by a new Head Office in Laval in 1991, a second location in 1996, a representation in the Maritimes in 1997, in 2001, another Branch in Dartmouth, Nova Scotia. Since 2004, a new Branch was opened in Longueuil, on the South-Shore of Montréal. In 2008, a second office in the Maritimes was opened in Moncton, New-Brunswick and in 2012, a third office was opened in St. John's, Newfoundland. In late 2016, the Moncton office moved to a bigger location with offices and a warehouse to better serve our New Brunswick customers.
To ensure the continuity of the company, a succession was carefully chosen by Sam Trak, its founder. This team is made up of Karine Trak, Residential Sales & Marketing Director, Roger Nasrallah, Commercial Sales Director, Marc Naccache, Business Development Director, Daniel Giroux, Quebec Branch Manager, Vic Epifani, Director Engineering Systems and Hung Quy Huynh, Director Technical Services.
Today, ENERTRAK represents over thirty reputed manufacturers throughout the Province of Quebec, in the Maritimes and the Ottawa Valley with an inventory in ENERTRAK's six warehouses. ENERTRAK's staff of over sixty, include Engineers, Technicians and qualified personnel at your service at all our locations.
As our past success was based on innovation and the pursuit of excellence, we intend to renew our commitment to the same objectives. Our strategy… more of the same.
Technical Expertise + Innovation + Superior Products
36 Years of Innovative Solutions
| | | |
| --- | --- | --- |
| 2018 | Air handling units | |
| 2017 | Hybrid heat pumps VRF City Multi | |
| 2016 | Swegon Gold heat recovery | |
| 2015 | Bulldog Hybrid heat pump | |
| 2014 | Smardt magnetic cooler with Danfoss TURBOCOR technology | |
| 2012 | Ecodan Water/Air heat pump | |
| 2010 | 6th generation of Swegon chilled beams | |
| 2008 | City Multi for domestic water and radiant floors | |
| 2007 | Zubadan HyperHeat | |
| 2005 | Stulz ECM Ventilators for computer rooms | |
| 2004 | City Multi geothermal | |
| 1999 | City Multi VRF air conditioner/heat pump | |
| 1998 | Lossnay/RenewAire energy recovery | |
| 1996 | Mitsubishi "ULTRA LOW" -40 °C | |
| 1995 | Stulz ultrasonic humidifiers | |
| 1994 | Desert Aire dehumidifiers with SELECTAIRE technology | |
| 1993 | Hot Water integrated heat pump systems Frigidaire | |
| 1992 | Vertical outdoor air conditioners for telecommunications | |
| 1989 | Portable air conditioners Toyotomi | |
| 1987 | Mitsubishi Mr. Slim Mini-Split | |
| 1987 | Alfa Laval plate heat exchangers | |
| 1984 | Ice-Cell thermal storage | |
| 1982 | Screw compressors and chillers Dunham-Bush | |