Hydron Module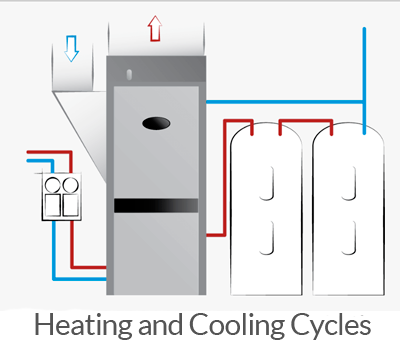 Standard Features
Attention to detail is what sets Hydron Module apart. Along with unmatched quality craftsmanship, Hydron Module systems also offer a host of standard features that make them second-to-none in the industry.
High Efficiency Copeland® Scroll Compressor: Allows the unit to match itself to the weather to deliver the best comfort at very high efficiencies.
ETL Certified to UL and CSA Standards : Proof of product compliance to North American safety standards.
Ozone Friendly R-410A Refrigerant Industry standard coolant, safe for the environment… safe for you.
Removable cabinet panels make installation and unit servicing easier.
Aluminum microchannel air coil eliminates corrosion and increases unit's efficiency and life expectancy.
Insulated coaxial heat exchangers protect against moisture and improve unit performance and reliability.
ETL Certified to UL and CSA standards proof of product compliance to North American safety standards.
Safe & Secure
No fossil fuel exhaust means no chimney or flue is required. There is no opportunity for explosions or carbon monoxide poisoning, which makes a geothermal system the safest choice for your family.
Money In Your Pocket
Geothermal systems are recognized by the EPA as the most energy efficient heating and cooling systems available today. Savings are produced by tapping into the free energy naturally stored in the earth.
Earth Friendly
Geothermal systems actually have a positive impact on our environment since they burn no fossil fuels and use very little electricity. This enhances our efforts to control pollution, green house emissions, and other issues that impact our everyday environment.
Noise Free Environment
No noisy outdoor air conditioner is required, so air conditioning no longer has to detract from your outdoor activities. An additional bonus: there is no unsightly outdoor unit to ruin your landscaping.
Heating and Cooling Cycles
During the heating cycle, the fluid circulates through the loop extracting heat from the ground and the heat energy is transferred to the geothermal unit. The unit compresses the extracted heat to a high temperature and delivers it to your home through a normal duct or radiant heat system.
For cooling, the process is simply reversed. Because the earth is much cooler than the air temperatures on a hot day, the geothermal system removes heat from the home and sends it into the ground. The fluid is cooled by the ground temperatures and returned to the unit to cool your home.