Mini-Split & Multi-Split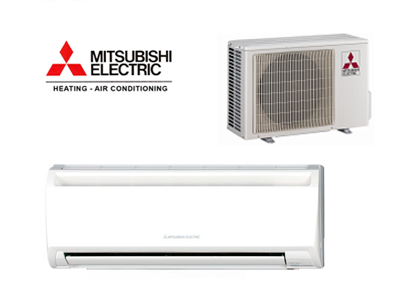 Quality
Mitsubishi Electric is consistently recognized by HVAC contractors as the #1 preferred brand with the highest quality rating among manufacturers. Our products provide extraordinary service life backed by Mitsubishi Electric's 10-year parts and compressor warranty.
*
Performance
We deliver a complete range of compact and powerful cooling and heating products that are also energy efficient, flexible and quiet.
A proud Canadian heritage
Mitsubishi Electric Canada was established in 1979 as a subsidiary of the Mitsubishi Electric Corporation of Japan. Since then, we have been at the forefront of providing Canadians with unparalleled quality of heating and air conditioning technology, sales, installation and support. Our high standard of quality and efficiency saves you from rising energy costs and helps build a sustainable tomorrow.
* When installed by an MEQ certified contractor.
---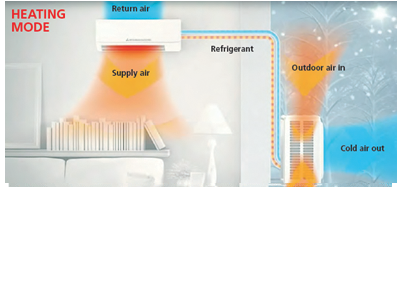 What is a Heat Pump?
A heat pump is capable of both heating and cooling, it accomplishes this by transferring heat from one place to another. The big question is: where does the heat come from?

A heat pump works by using a refrigerant to transfer heat energy between indoors and outdoors. On warm days, heat is extracted from indoors and transferred outdoors. On cold days, the opposite happens and your home is warmed with the heat energy from outdoors. Even on the coldest Canadian days there is still some amount of heat present. With Mitsubishi Electric's advanced technology, your Mr. Slim system can extract heat, even when temperatures falls below -27 °C (-16 °F)!*

* When installed by an MEQ certified contractor.
---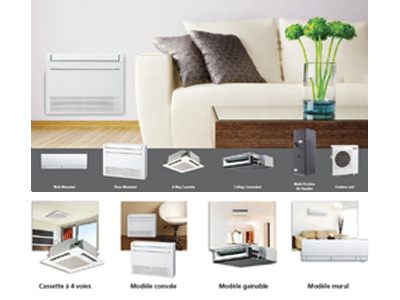 Multi-Split Systems
The MXZ-C Series provides you with superior control and flexibility by heating and cooling up to eight rooms, with only a single outdoor unit. The MXZ-C Series can be configured to suit your style and capacity requirements while offering outstanding energy efficiency.
---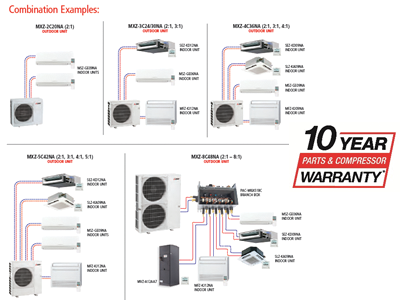 The Mitsubishi Electric difference
Our commitment to innovation and technology is exceeded only by our commitment to service – we stand behind every product that bears the Mitsubishi name and we demonstrate this by offering you our 5-year parts and 7-year compressor warranty that is among the best in the industry. Through our competent distributor network, strong service support, and unmatched parts availability, it is our assurance to you that you will enjoy the comfort and true quality that only Mitsubishi Electric can offer.

Mitsubishi Electric will upgrade the standard warranty to an extended 10-year parts and 10-year compressor warranty when your Mr. Slim M-Series system is installed by an authorized HVAC installer. An additional limited labour warranty may be available in some provinces from the authorized dealer. For more information, please contact your local distributor or MEQ dealer.

Our number one commitment is to you. That's why Mitsubishi Electric now offers an improved 10-year parts and 10-year compressor warranty to give you years of worry-free home comfort. Ask your dealer for more details or visit www.mrslim.ca.

*When installed by an authorized HVAC (Heating, Ventilating, and Air Conditioning) installer. Certain conditions, restrictions and/or limitations apply. See warranty terms and conditions for complete details.